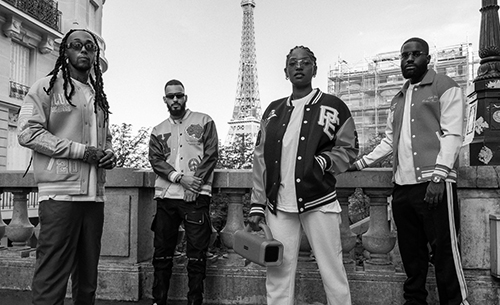 WHO IS PLUS EIGHTEEN?
Plus Eighteen is fashion. Plus Eighteen is diversity. Plus eighteen is in some part pedantry, and in some part modesty. Plus Eighteen is energy and synergy. Plus Eighteen is saying "I'm here", Plus Eighteen is taking things lightly. Plus eighteen is a family and a whole new world. Plus Eighteen is Turkey.

What Is the secret to Plus EIghteen's success?
It is the love and loyalty that we have for fashion. It is being patient, strong and persistent in our cause of action. It is passion and perseverance.
Who are Involved In Plus EIghteen?
Plus Eighteen is a family of people who pursue their dreams with the strength to face and defeat all obstacles in their way. This family is welcoming to anyone with the desire to join our journey in pursuit of our motto " Grab your dreams and come join us". This is what makes us grow in our march to the top.
What are your last remarks as Plus EIghteen?
We would like to thank everyone who joins us in our journey, who expresses their support through wearing our apparel, and who makes us stronger by becoming a part of our dream. We promise you that you will never regret joining us and will always continue to enjoy the ride. Together we will move forward...
More about Plus EIghteen
Plus Eighteen has reserved its spot on the top with its increasing popularity since its launch back in 2004. Since the beginning we serve 17 countries through our 400 sales spots. Continue to watch us...
Plus EIghteen Kİmdİr?
Plus Eighteen modadır. Plus Eighteen farklılıktır. Plus Eighteen bazen ukalalık, bzen mütevaziliktir. Plus Eighteen enerjidir, sinerjidir. Plus Eighteen ben burdayım demek, Plus Eighteen gülüp geçmektir. Plus Eighteen bir aile, Plus Eighteen ayrı bir dünya.
Plus Eighteen Türkiye'dir.
Plus EIghteen'İn sahip olduĞu bu baŞARININ sIRRI nedİr?
Modaya duyulan aşk, sadakattir. Sabırlı olmak, güçlü olmak, atılan adımdan geri dönmemektir. Tutku ve azimdir.
Plus EIghteen'in eKİBİ KİMLERDEN OLUŞMAKTADIR?
Plus Eighteen hayalleri olan, hayallerinin peşinden koşan, bu yoldaki zorluklara her daim göğüs gerebilecek kişilerden oluşan bir ailedir.
Günden gün büyüyen, bu yolculuğa katılmak isteyen herkese kucak açan, "Hayallerini al ve sen de bize katıl" sloganıyla zirveye yürüyen koca bir aile.
Plus EIghteen'İn son olarak sÖylemek İSTEDİKLERİ nelerdİr?
Bu keyifli yolda bize katılan, Plus Eighteen ürünlerini giyerek ben de sizinleyim diyen, gücümüze güç katan, hayallerimize ortak olan herkese teşekkürler. Size söz veriyoruz bu yolculuktan her daim keyif duyarak bizimle yola çıktığınız için asla pişman olmayacaksınız.
Yola devam...
Plus EIghteen HAKKINDA BİLMENİZ GEREKENLER
Kurulduğu 2004 yılından bu yana bulunduğu 17 ülkede yaklaşık 400 satış noktasıyla sizlere ulaşmaya çalışan Plus Eighteen yükselen grafiğiyle zirvede yerini rezerve etmiş durumdadır.
Bizi izlemeye devam edin...